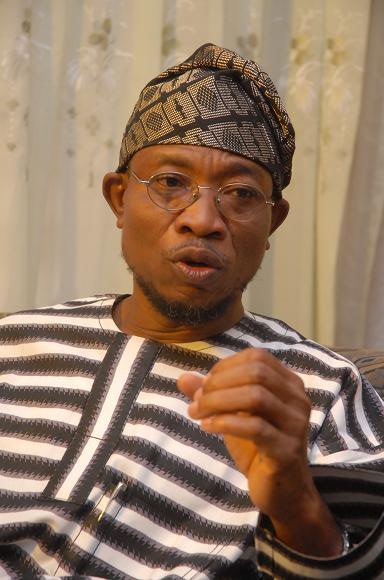 FEATURE: Osun's Sukuk Bond
With a meagre monthly allocation of an average of less than one billion naira from the Federation Account and an Internally Generated Revenue (IGR) of less than N1bn naira a month, Governor Rauf Aregbesola has maintained a motivated workforce paid as at when due; built, renovated and reconstructed primary and secondary school building across the state; rehabilitated, reconstructed and constructed health facilities; built and reconstructed roads and streets designed and completed with covered drains, walk ways and street lights; provided communities across the 30 local government areas in the state with potable water and electricity as well as flood control, environmental sanitation and beautification. Osogbo, the Osun State capital, is undoubtedly a cleaner, safer, orderly and beautiful city compared to the decay of the past. Compared with some Niger-Delta oil producing states' huge monthly allocation of an average of N20bn and IGR receipt of N8bn, Governor Aregbesola by all standards qualifies to be termed a genius in financial management, prudence, accountability and transparency.
Governor Aregbesola introduced Sukuk Bond to fasttrack the state's economic development. He knows that Sukuk, commonly referred to as the Islamic equivalent of bond, is opposed to conventional bonds, which merely confer ownership of a debt. Aregbesola knows that Sukuk grants the investors a share of an asset, along with the commensurate cash flows and risk. As such, Sukuk securities adhere to Islamic laws sometimes referred to as Shari'ah principles, which prohibit the charging or payment of interest. Governor Aregbesola wants to achieve rapid economic development for the people of the state and other Nigerians by catalysing both national and international trading infrastructure, product innovation and information flow within strong, transparent and well regulated standards and guidelines. The governor wants to promote acceptance and integration with mainstream markets.
According to the issuing houses, Governor Aregbesola's sukuk initiative was said to be the first Islamic bond in sub-Saharan Africa. The Sukuk bond was issued in accordance with enactment of the Osun State Bonds, Notes and Other Securities Law 2012 and setting up the Osun Sukuk Company Plc. Though the governor knows that Sukuk is Islamic in nomenclature, the Sukuk bond is a conventional bond and coordinated by the regular investors in the nation's capital and money market. The bond was issued in accordance with the Security and Exchange Commission's rules and regulations. The N14. 4 billion sukuk (14. 75 percent) fixed return tranche 2 has 42 investors with Lotus Capital Limited as the leading issuing house and Augusto and co, one of Nigeria's leading rating agencies, as the rating agent. The bond, which is being used to finance roads and school constructions across the state, is due in 2020. While authorising and approving the offer at the board meeting for the Sukuk Company, Aregbesola said his government took the sukuk bond as an opportunity for the development of the state. "In name, the bond is Islamic but it has the conventional bonds' characteristics and is coordinated by the regular capital and money market investors.Out of the 42 investors, only one of them (Jaiz Bank) is Islamic and the name sukuk is just a nomenclature. The investors are regular Nigerians," the governor said.
The emergence of Sukuk in Osun and indeed Nigeria has been one of the most significant developments in Islamic capital markets in recent years. Put simply, Sukuk instruments act as a bridge. They link their issuers, primarily sovereigns and corporations in Osun State,, Nigeria, Middle East, Africa and Southeast Asia, with a wide pool of investors, many of whom are seeking to diversify their holdings beyond traditional asset classes. In this way, funds raised through Sukuk can be allocated in an efficient and transparent way to infrastructure initiatives and other deserving projects in the 56 member countries of IDB, as well as communities in over 100 non-member countries.
The Debt Management Office (DMO) in Abuja has said that Osun's debt profile is a sustainable one which is healthy for its economic development. Dr Abraham Nwankwo who is the Director General of DMO in the Presidency has said that Osun State is one of the best states in the federation with public debt management, describing the claims that Osun was heavily indebted as mere propaganda and hoax. Nigeria wants to make sure that all segments of the society is captured in the bond market because there are some groups of people or individuals who do not want to participate in ordinary bond because of interest. Osun took the initiative and helped in introducing Sukuk in Nigeria. This is Governor Aregbesola's vision for the people of Osun and the rest of Nigeria by introducing Sukuk bond to sub Sahara Africa.
The governor understands how domestic and foreign investors buy Sukuk which have various structures approved by Shari'ah boards of Islamic scholars. He knows that Sukuk issuance has proven its resilience during recent periods of turbulence in global capital markets.
Governor Aregbesola understands that Sukuk will play a major role in the development of infrastructure and this is crucial to his vision of establishing Osun as a commercial hub for the South West of Nigeria.
Donald is the Director of Justice Research Centre, Benin City