The Significance Of Eid-il-Kabir Is The Very Basis For Good Governance –Aregbesola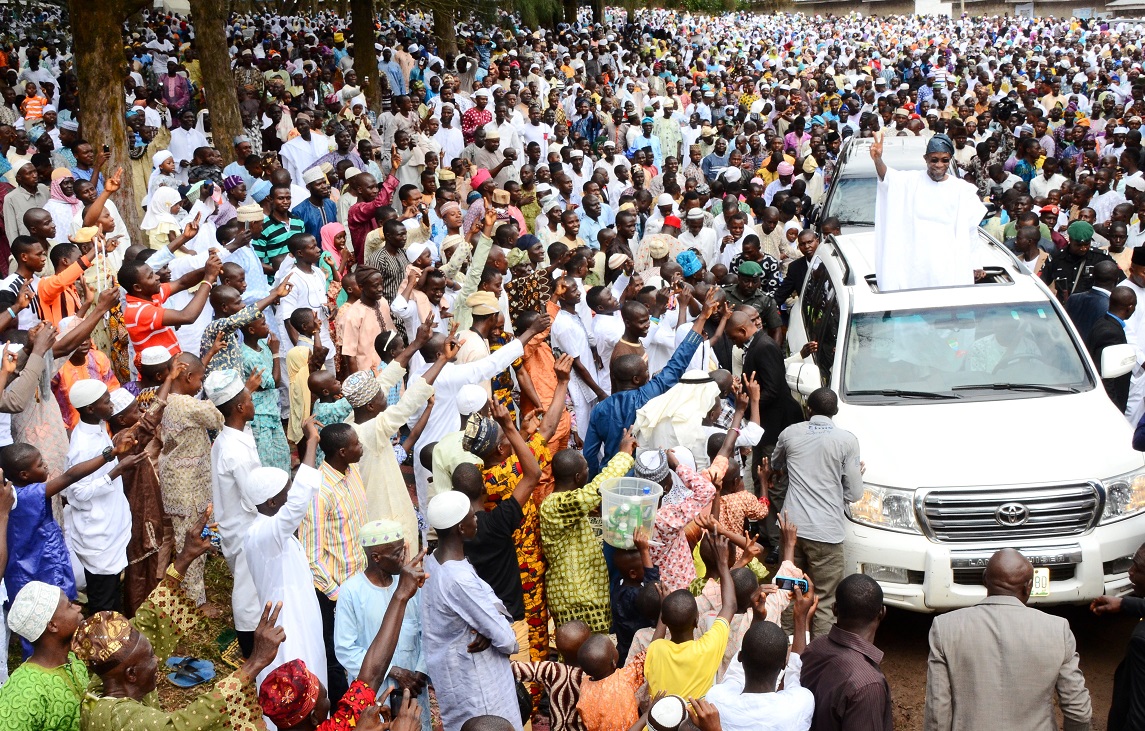 The fear of God Almighty and the readiness to sacrifice all in order to keep promises which are the hallmarks of the annual symbolic celebration of the Eid il Kabir are the very basis of good governance.
This was the admonition by Governor Rauf Aregbesola of the State of Osun in a statement on his behalf by the Director Bureau of Communication and Strategy in his office Mr. Semiu Okanlawon.
Continuing the celebration on Saturday, Okanlawon said two things stand very clearly in the decision of Prophet Ibrahim to sacrifice his son. He said he did so to fulfill a promise to God should he be blessed by God. The second is that there was nothing too much or too dear to Ibrahim for him to loose in order to fulfill a pledge.
"If we look at it very critically, these two are the virtues lacking in modern day life that create the present topsy-turvy atmosphere that pervades everywhere.
"If those in government demonstrate enough fear of God; resolve to fulfill promises kept and ready to give up anything no matter how dear and costly in order to fulfill a promise, most of the problems of bad governance, injustice and insensitivity to the plight of the common man would vanish," the Governor stated.
Most politicians, the statement added, would go to any length to make promises to hoodwink the electorate in order to seek their votes. The promise heaven on earth knowing well their promises are empty.
"This is why for us in Osun as a government, we are conscious of the fact that our electoral promises are not only before men from who seek electoral support, but before God who created and watches over all that we do here on earth.
"Each time we talk about Aregbesola's Pact with the people of Osun, we are not only talking about those promises made to voters for them to vote for us; we are talking about our promises before God that we owe the duty to fulfill.
"Programmes of this government such as the highly impactful employment schemes such as OYES, OMEAL, OYESTECH, Agric Academy, functional educational programmes such as digitalization (Tablet of Knowledge), OMEAL, O'SCHOOL, poverty alleviating programmes such as the micro-credit schemes, farmers cooperatives schemes, Agba Osun monthly welfare package; OREAP, infrastructure programmes such as urban and rural roads construction, urban renewal projects and many others are the products of promises fulfilled.
"The constant reminder of these promises and the need to fulfill them form the basis of the several live-changing policies and programmes of our government." It added
Saying that nothing should be too much to give up by politicians in order to bring about good governance, the statement said despite the very meager resources that accrue to the state, the government has sacrificed everything to ensure that life gets better.
"There would have been a reason for failure to bring about people-oriented policies because of the poor state of finance. But having made those promises to better the lots of our people, we have stretched ourselves very thin by sacrificing everything to keep those promises. This should be the way out to all politicians regardless of their political affiliation to transform our country," the statement added.
It added that it was no surprise that Governor Aregbesola was returned in the August 9 election noting that the electorate saw in his less than four years a politician who would give up everything to fulfill promises made and move steps further on things he never promised.
Urging Muslims to demonstrate these virtues in all their dealing with fellow human beings, the statement quoted the Governor as saying that with their behaviours in government and political engagements, Muslims possess the capacity to change the world to a better place to live in.