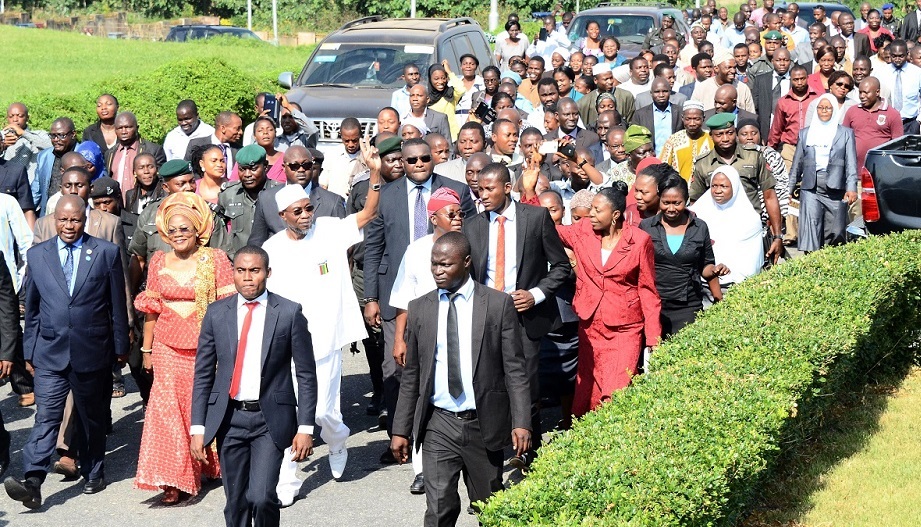 Osun Workers Welcome Aregbesola Back To Office After 2nd Term Inauguration

It was remarkable as Osun civil servants thronged on Governor Rauf Aregbesola on arrival at Bola Ige House- his office- the first time after taking oath for his second term as Osun governor.
The workers; led by the Head of Service, Sunday Owoeye were ecstatic as they sang praise songs- thanking God for bringing back the man that has brought various inovation that has impacted positively on Osun workers.
Governor Aregbesola took second oath of office last Thursday.
Addressing the workers, 5 he Osun governor noted that the song with which the workers welcomed him to office reminded him that three days was already out of his second term calender. He explained that he made a pronouncement after he took the Thursday oath to further develop the state with the speech of twenty years within the next four years of his new administration. He urged the workers to stand up to the task ahead.
Aregbesola thanked the workers for appreciating what was achieved by his government the first term.
He urged the workers to ignore the grandstanding of the opposition; adding that no amount of shenanigans of the opposition can truncate the steady growth Osun is experiencing. He said members of opposition "are telling all sorts of lies on a radio station in Ife in order to continue their grip on ignorant members of their fold". He however decried the inaction of the Nigeria Broadcasting Commission, NBC- adding that the broadcast regulatory body "is allowing evil by not cautioning a radio in Ife.
"This is not how to operate in a civilised community. Don't insult our senses by inciting the public.
"What they were saying before the inauguration on the radio was that inauguration would not hold. Unfortunately for them the inauguration has held", Aregbesola said.