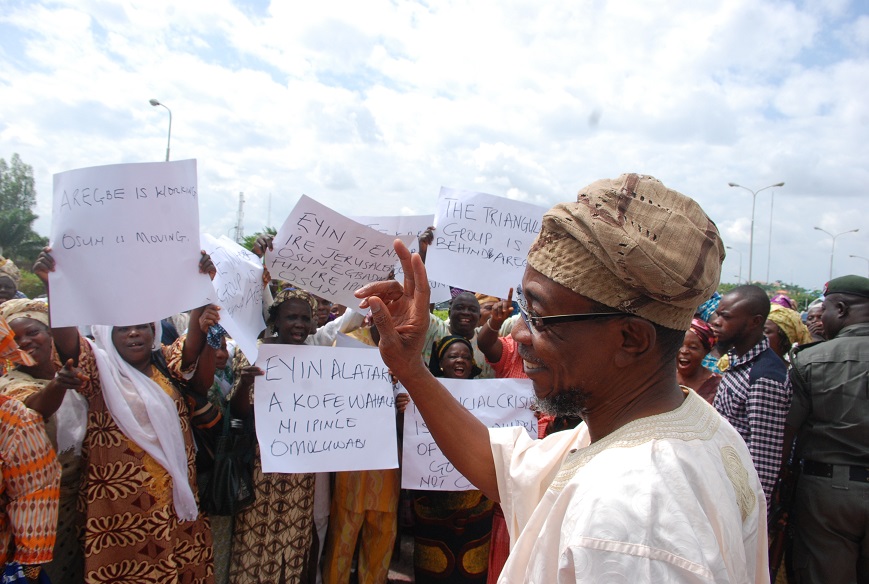 OPINION: Reflection On Aregbesola's Recent Scare – By Callistus Okeon
Nigerians have every reason to be tentative and melancholic about the current state of their nation. It is a fact that the economy of their country is in dire strait. In fact, the economy is screaming, heamorrhaging at several points and needing immediate fixing to stave off an imminent collapse. The signs of the economic stirrings include shrinking disposable incomes of the people, failure of governments to meet salary obligations to workers, growing graduate unemployment, mounting insecurity, deficit power supply, fuel shortages, dwindling revenues from oil, rapacious corruption, and depreciation of the naira.
The failure of governments to meet salary obligations to workers, to me, remains the scariest indicator of the increasing erosion of the legitimacy of the political leaderships in the country. It is universal truism that political legitimacy is founded on the trust people have for their leaders. A parallel exists in the home, when a father/ husband loses moral authority over the wife and children if he could not provide for their sustenance. When our governments default in this all important statutory responsibility, what moral authority do they possess to compel the private sector players to live up to similar responsibility, or tell the people do this and they obey?
Such a prospect is nothing but a descent into a dystopian state. Thankfully, Nigeria has been pulled from such tipping point through a strategic bailout worth N805 billion by the Presidency that included the granting of soft loans and restructuring of states' debt-servicing obligations.
Twelve of the 36 states are on the list of highly indebted states. Osun State, whose governor is Ogbeni Rauf Aregbesola, is unfortunately in that league. The import of this is not lost on critical watchers of his administration, one of the most purposeful and responsive Nigeria has had under this democratic dispensation.
I have a personal fascination for the leadership style of Ogbeni Aregbesola because there is a parallelism between Osun and my own Edo State. Chief Luck Igbinedion, as my state governor between 1999 and 2007, ran the most banal government since the creation of that state in 1991. When Comrade Adams Oshiomhole came on board on November 12, 2008, the scenario changed. Through uncommon leadership, he has given a positive meaning to governance and thus won the love and respect of the people. He has set political benchmark for future leaders of the state. It is the same thing Ogbeni Aregbesola has replicated in the State of Osun since his November 27, 2010's enthronement.
One of the legacies of Chief Obafemi Awolowo, the founder of modern Yoruba nation, is infusing in the Yoruba people the positive mindset of assessing and accepting their potential leaders. The political philosophy of Awo, aptly captured Awoism, enunciates the leadership values that could be used to separate a good leader from a bad one. That Awoism is well entrenched in the Yoruba political culture is underscored by the fawning disposition of all politicians in the region to this philosophy. And the fact that the people are so imbued with the value content of Awoism is equally underscored by the speed with which pseudo- Awoists are passed over and authentic ones endorsed for leadership positions in the region.
I will unapologetically submit that Aregbesola counts among the true disciples of Awo in contemporary Yoruba nation. Paraphrasing the American anarchist, Emma Goldman, Ogbeni holds the Yoruba nation in awe by his personality, his prophetic vision, and his intense revolutionary spirit. In his State of Osun, he has simplified politics, reducing it to a political capsule, which when administered induces in the people communal ecstasy. Which is why he commands awesome followership in the state. It is an established fact that there is a strong affinity between him and Osun people. It has nothing to do with the pejoratively termed amala politics; it is more about a recognition of an intertwined fate and a shared destiny by them. For a proof, take time off to watch him in action at a public outing; and you will discover an unrestricted felicitation between him and his people.
It is this soul mate type relationship well earned by verifiable accomplishments in tangible and intangible goods and services provisioning that the nation's bitchy economy almost truncated when Ogbeni's progressive credentials received bashing for his inability to pay workers salary. One of the most extreme reactions to the development was a push for his impeachment.
That particular episode is, for progressive leaders in a predatory capitalist economy like ours, a very pathetic reminder that distraction can come from the least expected source. Ogbeni, rattled by the unsavoury development, painfully jolted the memory of his people with this statement: "People cannot just forget the condition that we met here on our assumption of office and the conditions that are here now". This would have been true in a rational world where there is unity of purpose. But liberal multiparty democracy is all about competitive quest for power, where one man's failure is the ladder to success for another.
Ogbeni has only won a respite; he needs to reinvent his socio-economic policies and programmes to be assured of a permanent victory. Aluta continua
OSUN DEFENDER