8,157 Pupils In Osun Benefit From Sweet Potatoes Feeding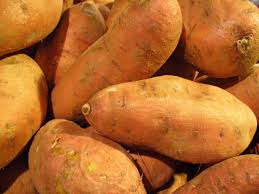 The Permanent Secretary, Ministry of Health, Dr. Adeyinka Esho has disclosed that about Eight thousand, One hundred and fifty-seven (8,157) pupils from selected 17 pilot schools across the State are benefiting from Sweet Potatoes and porridge feeding every Wednesday.





Dr. Esho stated this through the Director, Primary Health Care, Dr. Kayode Ogunniyi during the sensitization meeting held in Osogbo with facility-based Health workers on Nutritional benefit of Orange Fleshed Sweet Potatoes (OFSP).
According to Dr. Esho, the purpose of the sensitization is to promote the benefit of Orange Fleshed Sweet Potatoes among school children.
While speaking at the programme, the Project Coordinator in Nigeria, Mr. Justus Lotade Manje, said that Orange-Fleshed Sweet potatoes have long term sustainable replacement for vitamin 'A' supplement because of its natural beta-caroten level which contains high level of vitamins B, C, and K.
He added that vitamin 'A' deficiency in pregnant and lactating women can result in severe health damage for both mother and child.