Aregbesola Inaugurates 9-Man Committee To Reposition Osun Tertiary Institutions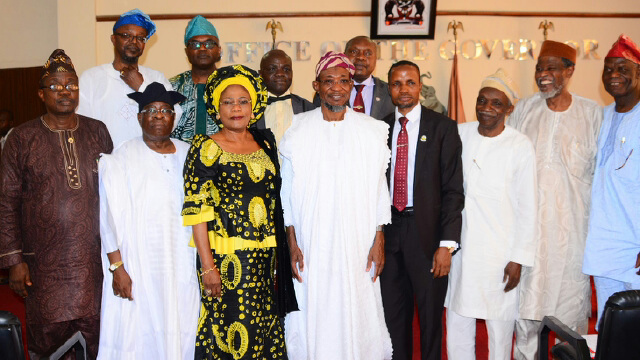 The Governor of Osun Ogbeni Rauf Aregbesola has inaugurated a 9-man Committee to swiftly reposition all the four State Owned Tertiary Institutions for greater performance and productivity.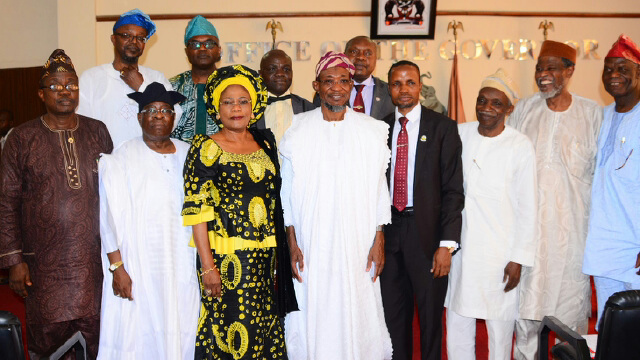 Governor Aregbesola hinted that the newly inaugurated committee was constituted in a bid to turn around the education system in the state in line with the state policy on education.
Aregbesola who recounted the laudable achievements of his administration said, much had been immensely recorded in the education sector just as the present administration was committed to the provision of quality and quantity education.
Governor Aregbesola who lamented over the state of education prior to his emergence, said the challenges which his administration met in education sector informed him to embark on massive education reclassification and restructuring which according to him had yielded positive results in years past.
He disclosed that his government met poor performance of students in education which informed his government to device several means of revamping and resuscitating the lost glory in basic and tertiary educations in the state.
Governor Aregbesola revealed that the recommendations of the various constituted panels by his administration had it that prior to his inception in office,  public education system had been poorly managed as over 70 percent of students leaving the state High Schools not being matriculable.
He stated further that the matriculable ones among the students prior to his coming were very horrible and challenging as this prompted him to implement and intensify plans to put an end to the disheartening occurrence.
According to him, "For this reason, we came up with initiatives which premised on a clear passion and commitment to provide opportunities for those who for whatever reason have deficiency in their secondary education.
"This informed the need to provide remedial facilities in all our tertiary institutions aside university just as we directed the authorities of both polytectnic, college of technology and colleges of education to provide facilities for basic education which will be largely for remedial studies for those with deficiencies in their secondary education to makeup and be properly equipped with required knowledge while being fully admitted for regular studies", he added.
He disclosed that initiative was aimed at making tertiary education to be locally made and accessible to the teeming prospective admission seekers, saying the state agitated for skilled-manpower particularly in the area of need, like construction industries, trading, catering, book keeping, carpentry, plumbing, electrical works and several urgently needed vocations.
He said, "We did these to ensure that our youths who have had sound academic knowledge are adequately provided with required technical and vocational skills.
"We equally compelled our tertiary institutions especially polytechnics and colleges of education to admit some trade men and women as well as artisans who are interested on the need to improve their skills and craftsmanship in their various areas of disciplines.
"For the colleges of education, we saw the need for regular training and retraining of our teachers including those teachers at Elementary schools, Middle schools and High schools because we believed that for us to get the best from our teachers we need to motivate them.
"In the need for them to be acquitted with modern techniques of teaching and for refresher programmes, we realized that our colleges of education are short on this, therefore, we organized pedagogy.
Speaking on the responsibilities of the committee, Governor Aregbesola said, "We setup this 9-man Committee on repositioning our tertiary institution so as to be sure that what we charged our tertiary institutions upon are well implemented and properly tracked".
He added, "Your oversight function is to verify the implementation of all the reforms we have initiated and enunciated in all the four institutions.
"We are clear on our minds. We want polytechnic, college of technology, as well as colleges of education that would be involved in the present and future needs of the society just as we equally want polytechnic that would be well connected to the society and provides its needs at all times".
Governor Aregbesola noted that it would be glad indeed if the state has colleges of education that are clearly focused on building virile and competent graduates that can compete excellently with their counterparts globally.
He said, "All our ideas are to turn our institutions to pacesetters and models in the country because it is anachronistic if we have a college of education in the state and the teachers in the state could not have facilities for retraining and acquisition of modern knowledge in teaching techniques.
"It would be very sad indeed if we have polytechnic or college of technology that occupied technicians, electricians, technologists, craft people among others but yet could not have facilities for training and retraining.
"For these noble reasons, we have inaugurated this committee to ensuring that our objectives for these institutions are completely achieved.
Aregbesola hinted that the committee was also inaugurated in order to be sure that the resources available in all the institutions are properly and judiciously used.
The Governor said the newly inaugurated committee would be empowered to carry out audit in the course of its exercise, saying the state was keenly interested to know the quality and quantity of every circumstance.
He maintained that the committee needs to bring to its knowledge by ensuring that every naira available for the institutions is being spent judiciously.
"We want to know through this committee, how the staffing is affecting the judicious use of the very limited financial available resources for these institutions in order to equally know how corrections would be made along the line.
"We want to find out and check the indigenous programmes available in all our tertiary institutions, as well as the additional assignments such remedial study, pedagogy, technical and vocational study given to them through this newly inaugurated committee.
"We want our tertiary institutions to be properly set up and targeted at achieving the purpose of which they were being saddled", Aregbesola opined.
In his remarks, the Chairman of the 9-man committee who doubles as the Acting Vice Chancellor, Bola Ige University, Osogbo, Professor Oguntola Jelili Alamu commended the state government for continuously repositioning education most importantly the basic education in the state.
He also said the current government under the leadership of Governor Rauf Aregbesola has created a wider platform of making education more interesting, attractive and relevant to the people within the state and beyond.
Professor Alamu who pledged the committee's commitment towards the realization of its aims and objectives, said every member of the committee would not rest on his oars at ensuring total reformation, restructure and transformation of all the state owned tertiary institutions.
Professor Alamu who bemoaned over what he regarded as poor orientation of parents, identified examination fraud as one of the major challenges facing education.
He said parents need to be educated on the need to refrain their wards from writing fraudulent terminal examinations such as West African Examination Council, WAEC, National Examination Council, NECO and so on at what he described as miracle centres where the results were believed to be easily and conveniently manipulated and engineered.
He described the government initiatives as laudable, assuring the committee's commitment in the actualization of the set goals.
According to him, "this committee which I am chairing would ensure the prompt actualization of the state objectives at restructuring and repositioning the state owned tertiary institutions.
" We will make sure that we embark on initiatives that would impact meaningfully in the lives of the people and our state at large just as we are ready to put in our best as we will continuously support the state government", he added.
Professor Alamu however promised that the committee would champions all the cardinal objectives of the state as they are ready to ascertain that the graduates of all the state owned tertiary institutions are equipped with requisite knowledge and skills to become employer of labour.
Members of the committee include: Professor Olasupo Ladipo; Professor Layi Fagbemi, Professor Duro Ajeyalemi, Dr. Yemi Adegbite.