Aregbesola Sympathises With Victims Of flood; Warns Against Indiscriminate Dumping Of Waste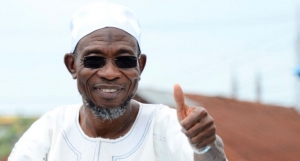 Governor Rauf Aregbesola of Osun Wednesday evening expressed sympathy with residents of the state capital Osogbo who were affected by flood.
Aregbesola, in a statement by the Director, Bureau of Communication and Strategy Mr. Semiu Okanlawon, was quoted as speaking during his tour of the affected areas which included Okeonitea, Rasco, Fiwasaye and Gbomi.




The Governor said the flood occurrence took the state by surprise judging by the heavy investments of his administration on flood prevention since 2011.
"Considering our efforts in the past at ensuring cleared waterways, we never expected this. Our government deeply regret the flooding that has affected our people," he said.
Since 2011, the government had been embarking on massive dredging of waterways in all parts of state in order to stave off such disasters.
After the tour which took him to all the areas affected Aregbesola said,
"I have moved around to commiserate with the victims whose properties were affected by this disaster.
"We have been quite committed to ensuring absence of this calamity since the advent of our administration as we have been regularly dredging the waterways on annual basis and as a matter of fact we are still very much indebted to those who normally work with us to ensure cleaning of our waterways."
The governor attributed the development to what he called the negative impact of people's activities on the environment adding that a huge accumulation of wastes remains a major invitation to flood.
He said, "This happens mostly when the negative activities of the people impact on the environment as we have seen a huge accumulation of wastes blocking the free flow of waterways.
"I want to use this opportunity to appeal to our people to heed our call to live very hygienic life. Let us cooperate with the government in the maintenance of good liveable environment.
"Our people must henceforth obey the government sanitation control and the collection of waste that we put in place because if we all religiously follow it, we will never experience this devastating flooding.
"Our government is aware that those who cause this are not living in this environment but the consequences of their unhygienic culture caused this -the loss of millions of naira and assets.
"Let us all run away from what we called pains, agony and misery to our fellow human beings as everyone is urged to dispose his or her waste responsibly.
Pastor Dayo Oluwamakin of the Christ Apostolic Church Gbonmi area, while speaking with Governor Aregbesola during the tour commended the governor for what he called the government's previous efforts at preventing what used to be the annual disaster before the advent of the Aregbesola administration.
He said he was sure that the government had done well in preventing flood before this latest incident.