Police Declare Total War On Cannabis Farmers, Smokers In Osun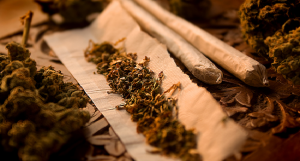 The police in Nigeria has destroyed a large expanse of Indian hemp farms at Agbongbon village in Irewole local government area of Osun State and arrested four suspects.
The Commissioner of Police in Osun State, Mr Fimihan Adeoye, said the operation was aimed at cutting the supply of Indian hemp as a way of preventing youths from smoking the weeds and curtail crime from the root.




The Deputy Commissioner of Police in the state, Aminu Koji, led the operation in which the Indian hemp planted in the farms were destroyed with herbicides while the dried one that was ready for the market was burnt.
The Commissioner of Police said: "We have declared a total war against Indian hemp cultivation and supply in Osun State. This is necessary to prevent youths from getting the weeds to smoke and this strategy was designed to nip the crime in the bud".
The state police boss said four suspects including Osasa Ansah, Saliu Koku, Musliu Ibrahim and Salimu Koku were arrested in connection with the farms and that they would face the full wrath of the law to serve as deterrent to others.
"Most criminals get energised when they take cannabis and that is why we are trying to cut the supply of India hemp to Osun and other neighbouring states so that they won't get Indian hemp to smoke. This would surely reduce the crime rate and our youths would be normal and behave well.
"Those planting the Indian hemp are trying to make money at the expense of other people and destroying the lives of many youths. They are also affecting the economy negatively because they don't allow the economy trees to stay in the areas where the weeds are planted," he said.
The Police Commissioner commended the state governor, Mr Rauf Aregbesola, for assisting the police in the state to be able to fight crime and provide security for the people of the state.