10 things you don't know about Gov. Aregbesola's 'Opon Imo'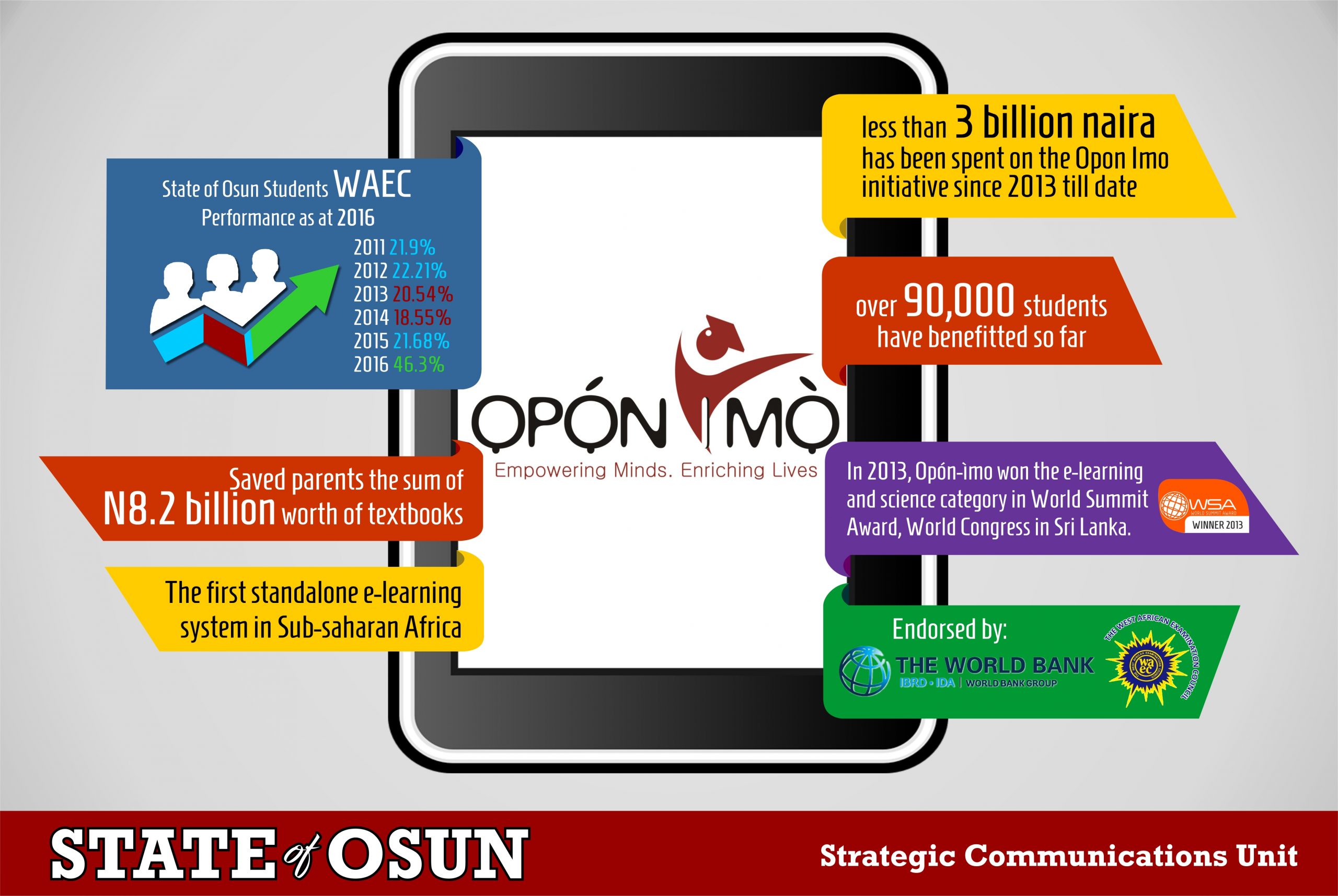 Back in 2013 when the State Government of Osun launched Opon Imo 'Tablet of Knowledge', many were skeptical about its sustainability and its effectiveness in combating the low rate of student performance, especially for secondary school students writing final year West Africa Senior School Certificate Examination, WASSCE.
Four years on since it was launched in Ilesha, we present to you, 10 things you don't know about 'Opon Imo'.
   'Opon Imo'is the first standalone e-learning system in sub-saharan Africa.
   'Opon Imo' has saved parents in Osun the sum of N8.2 billion worth of textbooks.
   'Opon Imo' was recently endorsed by the West African Examination Council (WAEC) in February 2017, and recommended to other states for adoption in Nigeria.
   'Opon Imo' is endorsed by the United Nations Educational, Scientific and Cultural Orgainisation, UNESCO.
Over 90,000 students have benefited from 'Opon Imo' in Osun since inception in 2013 to 2017.
Less than 3 billion Naira has been spent on procurement, installation, distribution and maintenance of 'Opon Imo' since inception till 2017.
   'Opon Imo' has helped to improve performance of students in Osun, culminating in 46% pass rate in 5 subjects including Mathematics and English. The best result in a 10 year period.
In 2013, 'Opon Imo' won the e-learning and science category in World Summit Award, World Congress in Sri Lanka.
Children of farmers and other rural dwellers now have access to a computer device, a thought previously impossible for them.
'Opon Imo' contains e-textbooks, past questions (WAEC and JAMB) and virtual classroom for ALL approved subjects from ss1 to ss3.