The Largeness Of Aregbesola In Osun, Lagos And Nigeria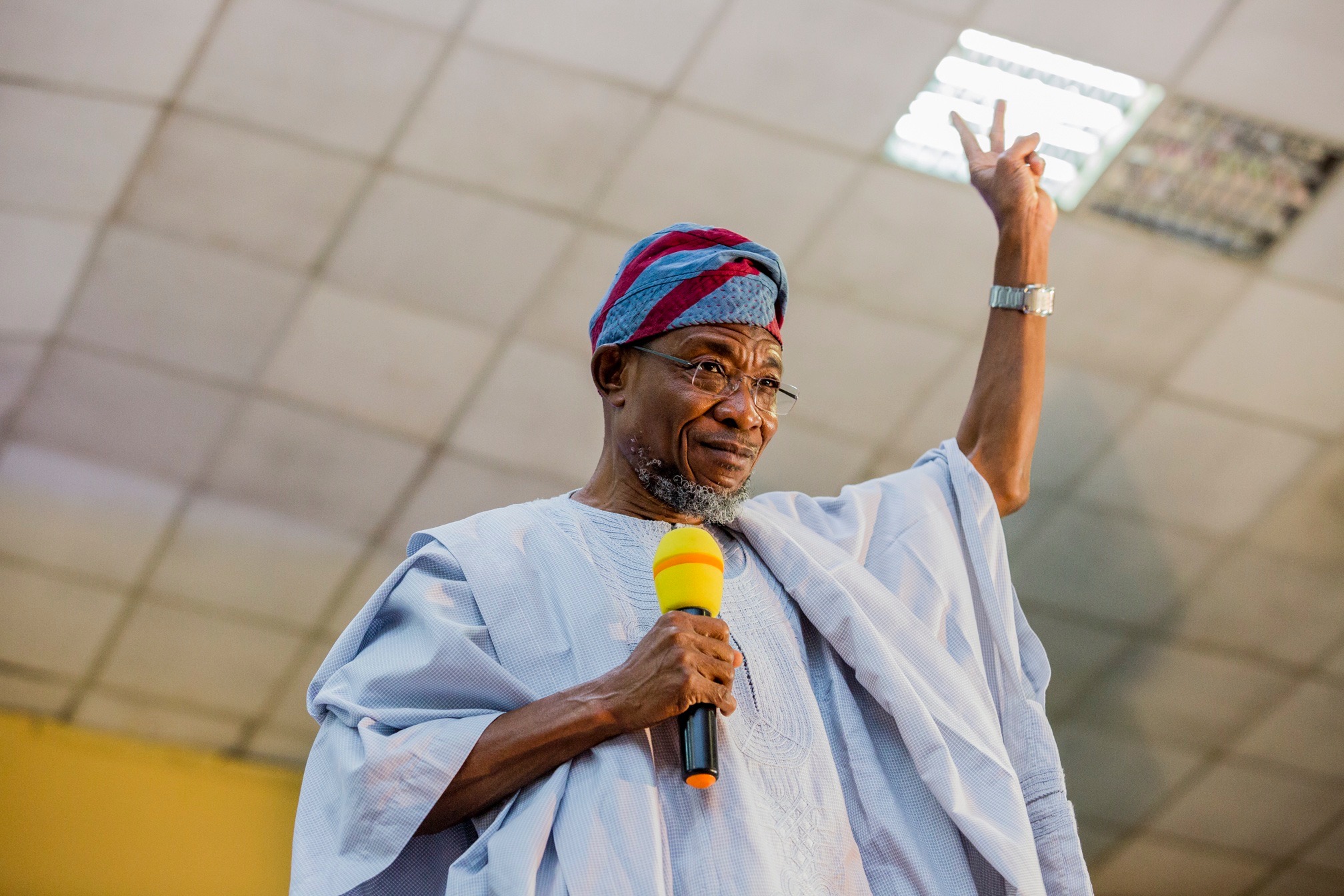 Our progenitor, the great Oranmiyan who has become a phenomenon in Yorubaland traversing the old Oyo empire up to the present day Ile Ife was a Prince, a King, warrior and custodian of cultural authority during his heroic days. Many centuries after he left, another symbol of peace, progress and prosperity for the Yoruba race emanated with unquenchable zeal, implosive passion and a thoroughly-defined concept for unusual governance in the state of osun, Rauf Adesoji Aregbesola appeared on the political scene. The Oranmiyan of our time.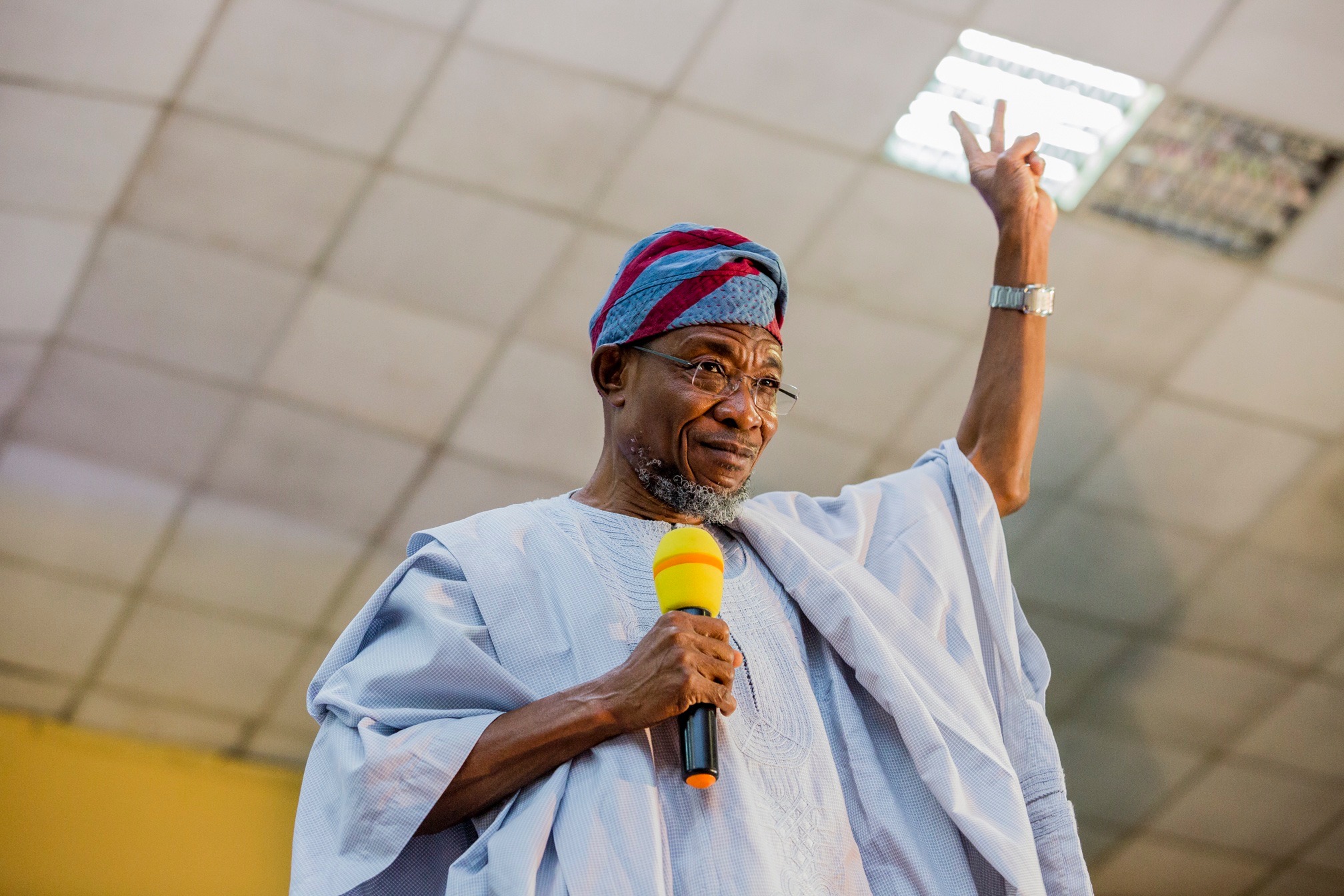 Arguably and interestingly, ever since he assumed the position of the chief executive officer in Osun, he has come under tense and heavy criticism, largely orchestrated by the opposition . However, the radiating love between him and his people (citizens, residents and electorates) previously; recently and presently remain uncompromised and waxing stronger still and that is the fact.

Fundamentally, Rauf Aregbesola is a mountainous movement, better described as an unstoppable revolution. It is a promulgation of enduring legacies for today and the coming generations: these and more he professed, he has demonstrated over the years in deeds, words and actions.

Traveling down memory lane, just thirty two months ago, the most vindictive and politically intimidating election since the advent of the 4th republic was conducted on August 9th 2014 in the state of Osun: political scientists often refer to it as an over – militarized supervised ballot of  a little above 700,000  electorates where well above 70,000 security operatives stretching from masked DSS to army officers, mobile and regular policemen and several other paramilitary agencies terrorized and intimidate innocent and law abiding Osun electorates but the Osun people rose and stood against tiring oppression, frightening influence and terrific intimidation with the broom mentality of purposeful unity, Aregbesola won clearly .

His dexterity and natural instinct of participatory governance is legendary. He posits with enormous humility that he remains the only governor who can confidently boast of two large territories in different domains of Osun East senatorial district and Lagos West senatorial district where he can make himself available for an election if he so desires to run after the expiration of his tenure as governor on November 27th 2018 and that is fact.

Putting the issues in clear perspectives, the success story of infrastructural development under Asiwaju Bola Ahmed Tinubu in Lagos State between 1999 – 2007 and beyond which epitomizes symbolic revolution in massive infrastructural development, the futuristic implementable ideas of visionary designs under successive administration which have become a working template is the "large syndrome and mentality of Aregbesola" in the eyes and perspective of an average Lagosian . It cannot be waved away, it cannot be brushed aside and it is documented with indelible ink in the annals of the Ministry of Works and Infrastructure at the Centre of Excellence.

Till date, his unflinching loyalty, strength and noticeable discipleship to the Tinubu political dynasty makes him the delight of the politician and a force to reckon with in the political landscape of Lagos and beyond.

Is Aregbesola actually a large political heavyweight in Osun? How? When? Where? Well, his mode of governance is patently unusual, reversing the old trends and bringing government in its entirety and totality closer to the governed by expressly surprising the over 4million teeming populace in Osun through the constitutional and conventional roles of entrenching the depth of democratic principles with legacy projects. The visible synergy with the people is unexplainable as he remains the only African leader who has demonstrated love with the downtrodden and average citizens through "THE WALK TO LIVE" initiative, a street credibility mechanism to promote physical fitness, a precursor to stable health to disembark every bodily channel predisposition to disease. He has walked over 100Km with his people under this concept.

The construction of new 70 state-of-the-art educational facilities for elementary, middle and high school pupils/students, with complementary renovation of additional 1500 classrooms. Timely approval and construction of over 1000klms of rural and urban roads, our government alone has served 200,000,000 plates of nutritious meal as at December 31st 2016 with 250,000 dished out daily under the O-Meal scheme with O – REAP (Osun Rural Enterprise and agriculture programme) a platform for peasant and mechanized farmers to translate their farm produce into profits and prosperity as the bed rock.

Undoubtedly, chunk of our Osun success stories have now metamorphosed into a national template for implementation of the blueprint of APC Muhammadu Buhari led Federal Government. The school meal feeding programme termed O – MEAL is been test run in 16 states of the federation, O – YES (Osun Youth Empowerment Scheme) produced 40,000 jobs within 6years, reduced the statistical rate of unemployment according to the publication of the National Bureau of Statistics, even the World Bank recognized this singular effort and international awards are uncountable in this regards.

The highly responsive Osun Special Ambulance scheme (O – Ambulance) don't discriminate between Fulanis, Ibibio, Efik, Igbira or Oyos when discharging effectively their statutory duties of saving accident victims and offering emergencies services to the residents of Osun , our records showed that 12,000 lives have been saved from untimely death within four years of operation. Our drive to make our state more environmentally friendly by rehabilitating mentally deranged persons combed or dumped on the streets of Osun is yielding joy for hopeless families, 160 or more of such homes are praying for the Aregbesola administration.

We cannot exhaust all existing channels to salute the doggedness, patience and understanding of the rank and file our entire workforce, the labour unions for standing unceremoniously with us in solidarity, our performance was slowed down due to the economic recession where funding militated against our lofty dreams to make Osun the destination of anything unique, attractive and outstanding. We are marching on.

The succession conspiracy theory can't distract our government, the model of finesse for emerging and performing successors under the Tinubu dynasty is not accidental, Babatunde Raji Fasola was thrown up less than 3 months to the defunct Action Congress (AC) 2007 Governorship primaries, same applied to Akinwumi Ambode whose entry into the race was less than a year. The baton will be passed to a worthy apostle of the 6point integral action plan of Aregbesola in due course.

Rauf does not give in to hypocrisy or pride as erroneously analyzed in some quarters, but a firm grip of the political firmament in Osun as this was again displayed at the just concluded 7hour all night interactive session tagged Ogbeni till Daybreak where a random sampling showed residents glued to their television sets despite the leprous and epileptic power supply. The audience within and outside is explosive in numbers, the attendant unscreened and uncensored phone calls were stimulants and complementary as encomiums were showered on the Ogbeni himself, even the unregulated social media coverage showed positive feedback.

Conscious efforts to resuscitate the Osun economy to boost the revenue generation through the agricultural and ICT revolution is commendable, the Cocoa processing industry in Ede is back on her feet after 15years of collapse, the chocolate liquor from the firm is touching grounds in China and  Europe. Recently, the collaborative effort of the government of Osun and RLG consortium which birth RLG Adulawo Ilesa in 2013 recently harnessed a contract sum of USD31.5m to produce setup boxes for TV digitization.

Aregbesola is reinventing the wheels of Awo legacies, approaching the mechanism of sustainable development through agriculture, infrastructure, social intervention and education for the benefit of mankind, he is purpose driven and remarkably focused on his set goals, he cannot be distracted by rabble rousers as every available parameter by both government and private establishment clearly reveal indices, statistical figures and empirical data of progress in human capital development, poverty reduction, infrastructural development, agricultural prosperity, etc. Saboteurs of development and political scavengers should halt all moves to replace Aregbesola with retrogressive element as they are whipping a dead horse; they have lost the battle al binitio.