Osun Commissoner For Environment Warns Against Indiscriminate Dumping of Refuse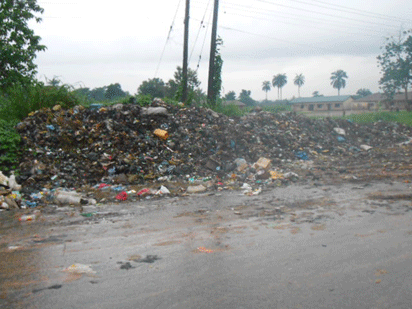 The Commissioner for Environment and Sanitation, Sanitarian Idowu Korede has again warned the people of the State of Osun to desist from indiscriminate dumping of refuse along water ways across the State.




Sanitarian Korede gave the warning while inspecting the extent of damage wrecked by flood at Olorunsogo market and other areas in Ile Ife.
He said one of the major causes of flood from time immemorial had remained indiscriminate dumping of refuse adding that if waterways are blocked, water must find its level somewhere else.
Speaking during the visit, the Special Adviser to the Governor on Environment, Mr. Abdulrasheed Opatola, said government had in recent times carried out intensive tour of some flood-prone communities in the State to clear up blocked drainages and canals.
The Special Adviser wondered why any right thinking person would be dumping refuse on water ways created for free flow of river, saying the numerous campaigns against such practice is in the best  interest of the residents.
While inspecting  the area damaged by the flood, he pointed out that box culverts on the stream need to be reconstructed to avert possible re-occurrence in the future. He also advised residents along the stream to vacate the areas to allow dredging of the streams.
The flood, which occurred at Olorunsogo market, recorded the death of a person and a cow and the loss of a motor-cycle.