Osun Governor, Senator Adeleke charges newly sworn-in HOS on effective service delivery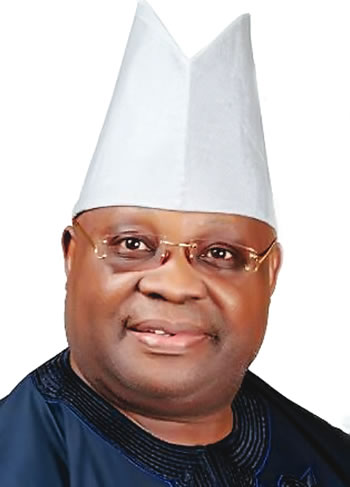 Osun Governor, Senator Adeleke charges newly sworn-in HOS on effective service delivery
……Promises to prioritize workers welfare
Osun State Governor, Senator Ademola Adeleke has charged the newly sworn-in Head of Service to make effective service delivery his wartchword in other to jointly move the State forward.
Governor Adeleke stated this today at the Swearing -in ceremony of the new State Head of Service, Mr Ayanleye Aina held at the State Secretariat complex, Osogbo, the State Capital.
He noted that workers play a prominent role in moving the State forward, stressing that the role of workers in State building cannot be undermined.
The Governor further charged workers to give the Head of Service maximum support, alerting that he cannot do the job alone.
Governor Adeleke however promised to prioritize workers welfare, adding that his administration mantra remains, "Government of workers, for the workers and by the Workers".
In his response, the new State Head of Service, Mr Ayanleye Aina appreciated the State Governor for the honour of his appointment among many qualified administrators in the Service.
He promised to give the Governor the needed support to ensure the success of his government.
Mr Ayanleye further harped on the need to build a new workforce by restoring the lost glory of the civil service in the State.
He added that he will prioritize training and re-training of workers for effective service delivery and productivity.
He therefore enjoined workers to be dutiful, diligent and highly committed to the service.
Present at the ceremony were: the Secretary to the State Government, Alhaji Teslim Igbalaye; retired and serving Permanent Secretaries; Executive Secretaries; Labour Leaders as well as top government and political functionaries to mention but few.