Juwah, Aregbesola Urge Govt To Use ICT For Public Service Delivery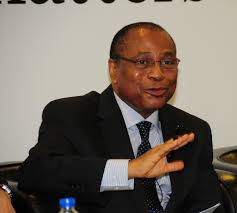 The Executive Vice Chairman of the Nigerian Communications Commission (NC), Dr. Eugene Juwah has called on the Federal, States and Local Government authorities to adopt the use of available Information and Communications Technology (ICT) tools in public service delivery.
Juwah, who made the call at the recent Nigerian Telecom Development Lecture (NITDEL), organised by the Nigerian Telecoms News Magazine, said the need to adopt ICT in governance was to enable the citizens feel the impact of government in their daily lives in today's digital age.
According to him, "Governance and the delivery of public services can be performed more efficiently through the use of ICT, which he said, may include mobile/fixed telephony, internet, broadband and wide area networks."
The ICT, he added, "opens the door to e-commerce, e-education, e-health and e-government, and this is why a number of government agencies at both the federal and state levels are developing ICT facilities to improve service delivery, information sharing and reduce delay."
"There are many areas that have been positively affected by Nigeria's ICT, including direct and indirect employment, new business opportunities, learning and skills development opportunities and in human relationships", he said.
Juwah commended the organisers of NITDEL event, describing it as one ICT event out of many that are evaluating government performances in the adoption and use of ICT.

Speaking on the significance of ICT to national development, Governor Aregbesola of the State of Osun, in a paper titled: 'ICT, A Tool for Social Development', said the real significance of ICT to human existence could be summed up in one word – computer.  He said: "In its various forms – whether it is mainframe, desktop, laptop, tablet, palmtop, or handsets, the computer is the veritable centre around which human activities across the world now revolve."
The governor added:  "Even farmers need the computer for soil testing and analysis, planning, operating certain machineries, tracking farm animals, diagnosing diseases in plants and animals, confirming bank balances, requisitioning farm inputs such as seedlings, fertilisers, agro-chemicals and for weather and harvest forecasting.
The infinite uses and applications to which the computer can be put are commensurate with the fertility of the user's imagination. Hence, ICT has the potential to open up huge possibilities that can enhance growth and development of human society."
(culled from THISDAY ONLINE)