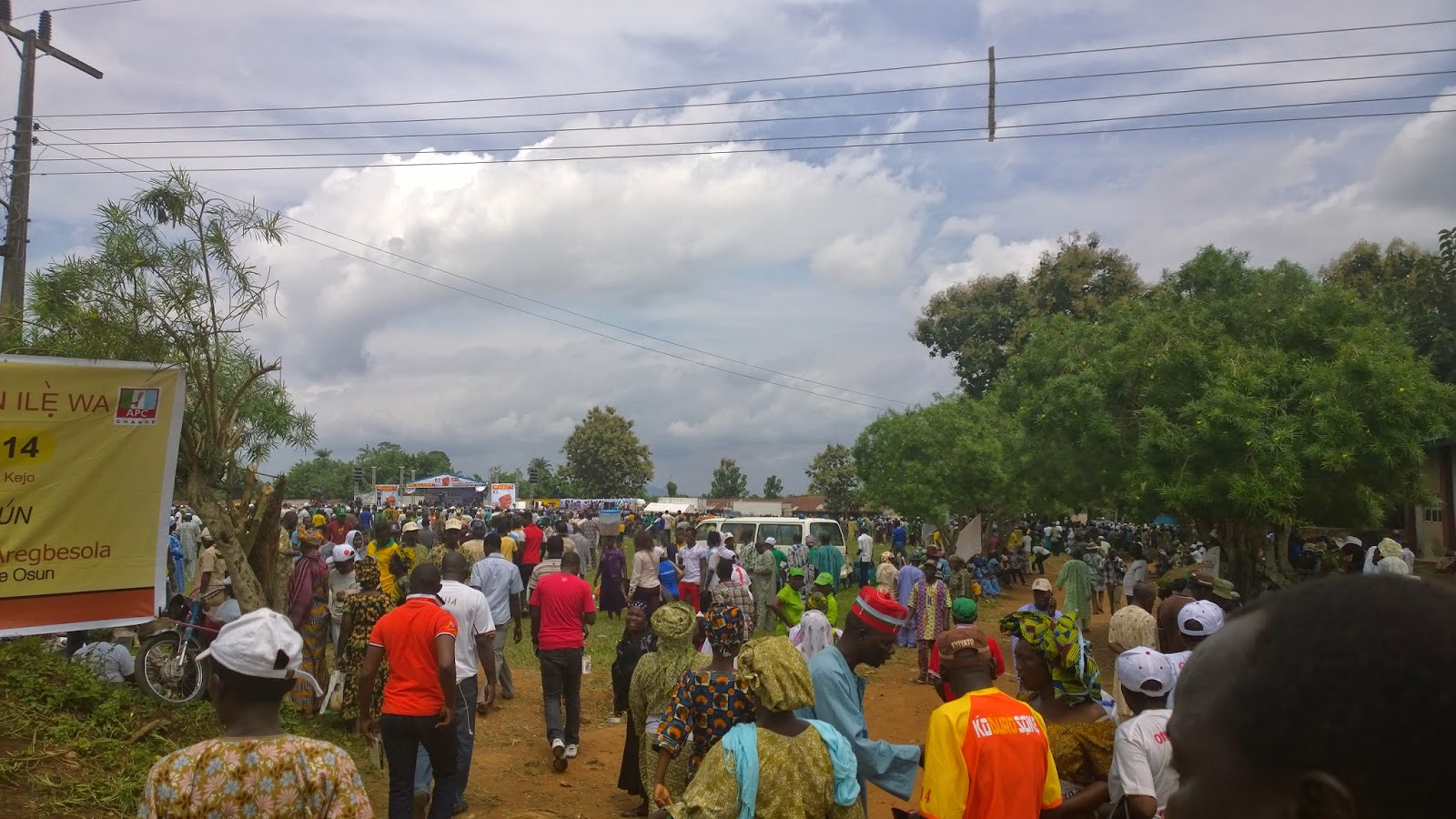 OPINION: Osun Rally, The Violence Of Politics, And The Politics Of Violence In Nigeria
We had barely driven past Ibadan when a call came in, informing that a bomb blast  had gone off in Ile-Ife, in the state of Osun. I was advised not to proceed, as one of my stops on this trip, the APC Governorship Osun Rally, could be a target of such a bomb blast.
I remained insistent it was an explosion which could have been caused by any other reason, but not a bomb blast…couldn't be a bomb blast. There are no bomb blasts in Southern Nigeria. Nobody could be that dumb as to expose themselves as the real Boko Haram, not over a small state like Osun. I was very wrong.
In Ekiti, 2 people had been shot dead by security agents during the APC campaign following the elections. Nobody was brought to book. In Ekiti, somebody was inducing voters with food, nobody has been asked questions. In Ekiti, APC party chieftains were abducted, disenfranchised, and their followers subdued by the Nigerian Army, no one has been queried.
All of these shadow operations carried out to blur, the mission, and provide reasons and explanations to cover up the massive rigging in that state. Now that the Ekiti formular for masking rigging has proven successful, the plan is to up the anté in Osun. Why shoot 2 people when you can bomb an entire community? Why bribe with bags of rice when you can use plates of 'amala'? Why abduct party chieftains using the Army, when you can assassinate them with a sniper squad?!
During my previous visit to Osun state, market women in a convoy headed to the Osun Rally in Iwo were ambushed and beaten up by thugs. This time, a convoy of Okada riders was crashed into by a bus loaded with thugs also attacked the riders with sticks and cutlasses for good measure.
I'm not a member of the APC, I would have done what I should do when visited with such madness. However, for the few members I know, I advised that they take precise and decisive action against the perpetrators of this "Capture The SouthWest" agenda. You don't capture electorate, you win people over, and they give you their votes.
Eventually, we got to the grounds of the rally at Ibokun, but I couldn't stay. A little bird told me that a lot of the people at those rallies are not members if the community where the rallies were being held, and since I was from Lagos, and am aware of convoys of market women and Okada riders heading to the rallies, I took that information seriously.

During this trip to Osun, my plan was to meet with the people of Ibokun, and seek their disposition towards the candidates vying for Governorship of Osun state.
At a barbershop, one man argued that the incumbent, Rauf Aregbesola, had not 'sent things' into the community. He claimed another party had sent inducements to those willing to support them, but 'Ogbeni' had not. He pledged his vote was for the current Governor, but wished that the Governor sent something, or at least prevented others parties from using such gimmicks.
The barber himself said he was a supporter of Governor Rauf, and would vote him for a second term. When I questioned the barber's absence from the rally itself, he explained that the Governor would arrive much later, and so would he.
People were concerned about pictures of themselves or their shops and homes being taken during the interviews. A woman who sold me Seven Up said she didn't want the state to go back to thugs who made them pay protection, and other illegal fees.
Another man who claimed to be a member of the PDP, and an indigene of Gbongan town asserted that his people never voted for Aregbesola the first term, but have now been humbled by the projects the man executed and commissioned in their town. He swore this time, that his town will vote Ogbeni 'aggressively'!
An elderly woman who spoke in Yoruba was concerned about the security of the future generation. Seeing I was a visitor  to the state, she assured that this bombing thing was not of the Osun people, and that they would "ship Bola Ige's killer back to his masters" before he kills more.
They still talk about Bola Ige in Osun, like it was only yesterday he was murdered in cold blood. They love the man, just as they love Awolowo, and they mince no words in calling out one of the governorship aspirants whom they point out as this killer.
I questioned the kids who were at the rally during school hours. They spoke so enthusiastically about the man who gave them the "Opon-Imo", that I knew I wouldn't be the one to chastise them for truancy.
In the state of Osun, it's not difficult to know that even violence is not enough to sway the votes of the people. The thing about violence though, once applied, it is hard to let go. Those political tacticians who have chosen death and destruction as a tool of their own brand of democracy, should re-calculate their formular, and realize that it would take nothing short of a Nuclear bomb to defeat the people of Osun, and since they don't have that yet, just let the people be.
Osun is a beautiful place, with very hardworking people; they farm, they fish, they hunt, they mine. They love good food, live music, and a decent relax. Let no one import these politics they used to ruin other states.
BLOGSPOT