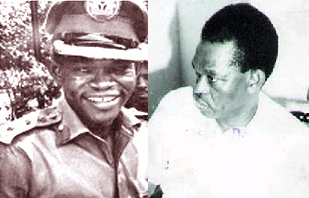 'Benjamin Adekunle A Courageous Soldier' – Aregbesola
The Governor of Osun, Ogbeni Rauf Aregbesola, has joined well-meaning Nigerians in commiserating with the family of the Retired General  Benjamin Adekunle, popularly known as 'Black Scorpion' who passed on to glory on Saturday.
The Governor, in a statement by the Director, Bureau of Communication and Strategy, Mr. Semiu Okanlawon, said the death of Benjamin Adekunle has closed a long chapter in the history of the nation as it relates to the Nigerian Civil war.
Aregbesola said Adekunle played a crucial role in the civil war that almost liquidated the Nigerian nationhood.
The governor noted that irrespective of what some people might believe or not believe about the deceased, Adekunle played a vital role in making sure Nigeria remained a united country.
"We receive with heavy heart the death of one of Nigeria's finest soldiers, who fought for the unity of his country.
"No doubt, he was a soldier of soldiers and commander of men. He distinguished himself in his chosen profession both at home and abroad.
"Adekunle led the Third Marine Commando Division during the Civil war with such great courage and determination.
"Up till today, his war exploit in the command of the Third Marine remains subject of discussion across Nigeria and beyond.
"The history of post-independence Nigeria and the crises that threatened the young nation's existence will be incomplete without a chapter for this courageous soldier.
"We, Government and people of Osun, convey our heartfelt condolences to the immediate and extended families of Adekunle, and the Government and people of Oyo State.
"We pray that God repose his gentle soul in paradise," Aregbesola said.