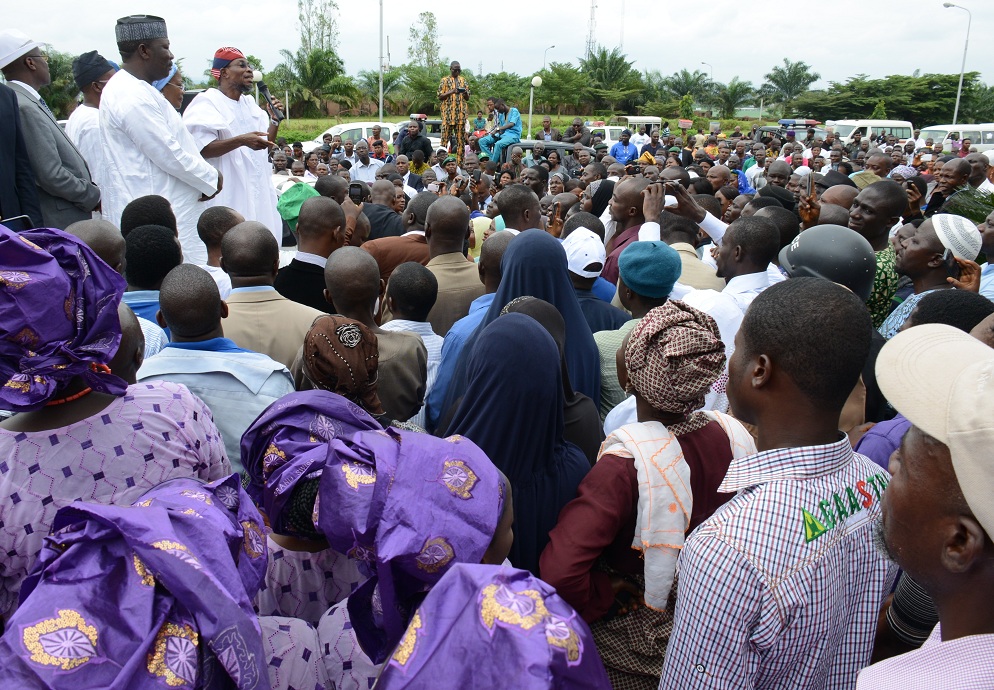 Osun Workers Welcome Aregbesola Back To Office As The Governor Says No Worker Will Be Vilified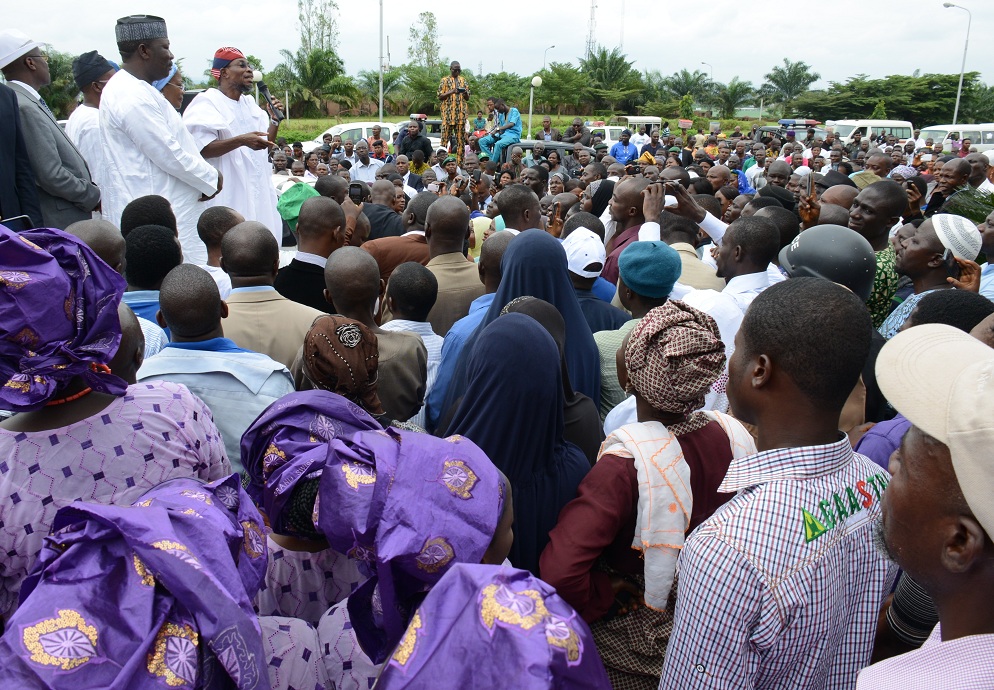 It was a triumphant entry for the Osun Governor, Ogbeni Rauf Aregbesola when the Osun workforce literally "layed ambush" as he enters the Bola Ige House in Abere- where they welcomed him to office.
Trade Union Congress TUC Chairman Comrade Francis Adetunji said the gathering was a demonstration of their love for governor Aregbesola. His NLC counterpart Comrade Saka Adesiyan said "workers trooped out as a demonstration of natural support for our governor. This is just to show that we are unrelenting in our support for this man who has done so many good things for us- workers of Osun"
The head of service, Sunday Owoeye dedcribed the ocassion as unprecedented. "No governor has ever been welcomed to office by workers. This shows that for every action, there is reaction. This is a show of workers' reaction to the numerous good things that Osun workers have enjoyed under your administration."
Addressing the mammoth crowd of workers, Governor Rauf Aregbesola thanked them for standing by him during the last election.
He racalled how efforts were made by the opposition to fraudulently win the election. "They tried everything within their powers. They officially deployed 73 thousand security men to our state. That is minus the over 20 thousand impersonators in DSS uniform.
"They even have the guts to attempt entrance into my official residence on August 9. Led by the "election AIG", Police Commissioner, and the one in charge of the Army. They claimed that they got intelligence that election rigging was underway in government house. They tried but they met the right resistance", said governor Aregbesola.
He stressed that there was nothing within the powers of members of the opposition to "cause the longest civilian coup in the last election" that was not done.
Aregbesola added that God however showed that He was with Osun people during the last election when he was returned after all.
Against the rumours that there would be backlash on some workers who brazenly joined the frail of the opposition's machinations to take over government, the Osun governor asured the workers that there will he no backlash whatsoever.
"I say it here openly that we will not carry out any reprisal on any worker for not voting for us in the last election", Aregbesola said.
He added that it is the right of any Nigerian to support anybody through the ballot; including workers. He explained that it is however criminal that amy civil servant who pledged allegiance to the service and still went all out to openly express support for the opposition party on election day.
"Any worker who went partisan during the last election should please desist. Though we know some of them. We will not take any step against them but we plead with them to repent and let's build our state togather. What happened last August 9 was God's doing. And we are sure that whoever tries to cross God's path will fail woefully", Aregbesola said.