Osun Records 113% Improvement In WASSCE Performance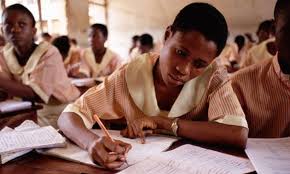 Fresh information emanating from the West Africa Examination Council (WAEC) has shown a 113% improvement in the performance of students who wrote the May/June West African Senior School Certificate Examination (WASSCE) in Osun state. The analysis of 10 years WASSCE results as seen in the table below, shows the increased dividends from the massive investments in education by the administration of Ogbeni Rauf Aregbesola.


Results seen in the analysis of Osun students who passed with 5+ credits including English and Mathematics, shows a poor record of 6.86% of the total number of candidates who sat for the exams in 2007, long before the advent of Ogbeni Rauf Aregbesola in the state.
Most critics failed to analyse Osun's historical performance when comparing the performance of students across states in Nigeria.
The laid-back analysis of comparing state by state performance by many is faulty, in that, if a state presents only 10,000 candidates for the WASSCE, and 7,500 students are able to secure 5 credits including mathematics and English, then such state with a pass percentage of 75%, would be placed above a state who presents 100,000 candidates with a 50% pass percentage.
As much as this analysis could be theoretically correct, it fails to put into consideration, peculiarities of individual states."
Consider the State of Osun for example, analysis of WASSCE result over a 10-year period shows considerable improvement in the performance of students, reaching a climax of 46.3% in 2016, despite taking 29th position in the entire country."
"While this achievement may appear insignificant at face value, however, compared to the year 2007 when a woeful 6.86% pass performance was recorded, it attests to the considerable interventions the state government has made to tackle education head-on."
He said that "Since the Ogbeni administration took over governance in November 2010, students' WAEC performance has gradually improved as seen in the infographics below."

"Specifically, the 2016 WASSCE result (46.3%% pass rate) shows an improvement of 113.56% over a space of one year when compared with the 2015 result (21.68% pass rate). We can go on and on calculating how year in, year out, the Aregbesola administration has embarked on painstaking steps to not only address the relative decline and stagnation in students' educational performance but recorded considerable improvement accordingly."
"While skeptics and cynics sat back and dismissed the Ogbeni's administration as it committed considerable steps to arrest the over 30 year rot in education, they failed to realize that, the future of our youth is non-negotiable as such considerable positive change of this magnitude requires systematic effort, determinism and perseverance which is often a slow and gradual process."
"For those without a sense of history, need I recall that the Ogbeni Rauf Aregbesola inherited a comatose education sector, where teachers lacked motivation, students were less interested in learning, and school buildings resembled chicken pens rather than institutions of learning."
However, a quick run across the state shows considerable improvement from the past administrations in an effort to avoid failing too many of our children by sending them out into what we hope to become a 21st century economy through the doors of 20th century schools.
New palatial learning buildings now dot the Osun landscape – One was recently commissioned by President Muhammudu Buhari on Thursday, 1 st of September, 2016. Osun teachers are well paid and equipped – 5,000 of them has been trained and retrained so far, and students more than ever before, are taking vast opportunities before them.
The Opon-Imo tablet still works wonders amongst students who possess them. Opon-Imo, an indigenous Technology Enhanced Learning Platform (TELP) with locally produced content is designed for the Nigerian secondary education system. It is preloaded with lesson notes on seventeen (17) subjects offered by students writing the West African Senior School Certificate Examinations (WASSCE) and NECO SSCE.
Also preloaded inside the Opon-Imo tablet is over 40,000 past examination questions spanning a period of ten years, for (private) practice, 63 etextbooks covering 17 subjects' areas that students do register for in external examinations and 51 audio tutorials installed as study aid.
Opon-Imo is also preloaded with seven extra-curricular subjects such as Sexuality Education, Civic Education, Yoruba History, Ifa Traditional Religion, Computer Education and Entrepreneurship Education, and Twelve Thousand Yoruba Proverbs.
These and many more are the initiatives and measures the Ogbeni Rauf Aregbesola has set in place to concisely improve the state of education for the future of our kids and consequently nation. The basic premise is that the status quo of dilapidated structures, ill-equipped teachers, limited exposure of our kids to the very tools driving 21st century economies must be tackled comprehensively.
The future of our kids, development of our economy and building of a nation through education is a promise the Ogbeni administration seeks to guard jealously and deliver.
Osun may not be in the desired place amongst comity of states in WASSCE performance, but we are making considerable strides as we deliver our promise to the people, and Ogbeni's investment in education is paying off.