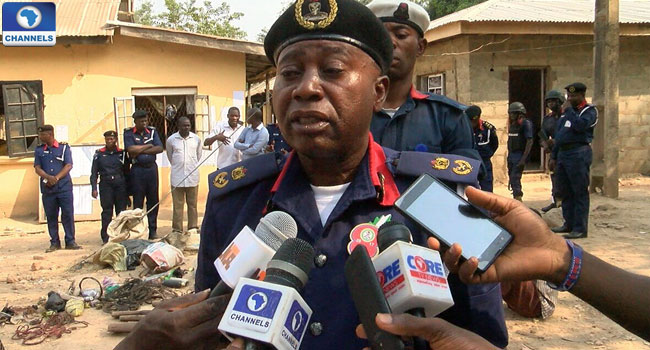 Osun Civil Defence Arrests Suspected Marauding Herdsmen
The Osun State Command of the Nigeria Security and Civil Defence Corps (NSCDC) has paraded three cattle herdsmen, allegedly terrorising a farm settlement in Ikoui, Isokan Local Government Area of the state.
The arrest, which was made at about 5:30 am on Thursday, followed a tip-off from the community.
Two of the suspects, Hamisu and Lawal are said to be from Gbangudu Local Government, while Musa is from Gusau Local Government all in Zamfara state.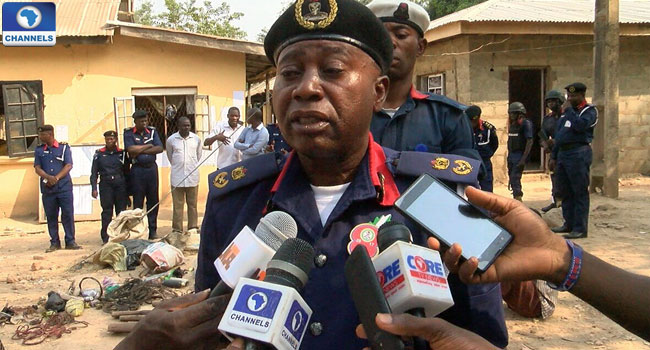 According to the State Commandant of the NSCDC, Philips Ayodele, information got to the operatives from the office of the kabiyesi (king), which intelligence officers acted upon.
He said the rustlers, who were five in number, were armed with charms, guns and some weapons, invaded and destroyed the crops on the Onikoyi farm settlement.
Mr Ayodele told reporters that the farmers had on several occasions, been attacked by the rustlers.
Ayodele said: "We recovered a lot of weapons, charms, locally made guns with gun powders and local bullets. The farmers in that area have no peace. They don't allow them to rest due to their heinous activities on the farm. We thank God we are able to apprehend these notorious persons, "he said.
The NSCDC commandant also stated that the rustlers, who claimed to be hunters, could not be identified by the Osun State leader of Miyeti Allah, an association for the Fulani Herdsmen after he was briefed by the security outfit.
"Before you can be a hunter you must know the terrain of the area you are operating in, but these people are not from Osun and they still insist they are hunters.
"The Miyeti Allah in this state cannot recognise them after we spoke to them about the arrest and we have also warned them to always report rustlers who are not from Osun State so that we would be able to identify those who have invaded the state," Mr Ayodele emphasised.
He urged members of the community to always supply the corps with vital information that would help them rid the society of people with criminal intent, lauding the supports they have received from sister agencies in the state.