SPEECH: Community Ownership Of Schools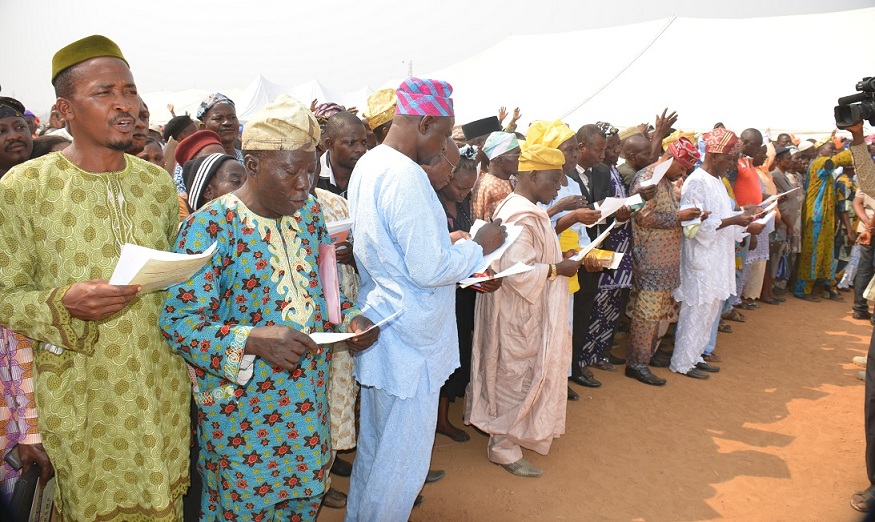 SPEECH BY THE GOVERNOR OF THE STATE OF OSUN, OGBENI RAUF AREGBESOLA, AT THE INAUGURATION OF COMMUNITY BASED MANAGEMENT COMMITTEES FOR OSUN ELEMENTARY, MIDDLE AND HIGH SCHOOLS, HELD AT GOVERNMENT TECHNICAL COLLEGE, OSOGBO, ON THURSDAY JANUARY 14
Protocols,
COMMUNITY OWNERSHIP OF SCHOOLS
I welcome you most sincerely to another milestone in the course of educational development in our dear state. We are assembled here to give life to community based school management committees at the elementary, middle and high schools in the State of Osun.
After holding the education summit in 2011, we have since introduced many reforms into the education sector. In line with our policy of focussing on basic education, we have reclassified schools into elementary, middle and high cadres. We produced and gave one pair of school uniform to each pupil in our public schools in order to give them a distinct identity and renewed confidence.
Before the present cash crunch, we have increased the running cost on each pupil from N200 to N400. We appointed about 3,500 fresh teachers and provided teaching aids and materials to all public schools. Then we began the feeding of over 250,000 elementary pupils with nutritious meals on every school day. We also invented the e-learning computer tablet, Opon Imo, for high school pupils in the state.
Considering that the environment must be suitable for learning, we began the construction of state of the art 100 Elementary Schools, 50 Middle Schools and 20 High Schools. We have since completed 14 Elementary, 15 Middle and 1High Schools. Others are in various stages of completion. Just on Tuesday, you will all recall, we commissioned Anthony Udofia Government Elementary School, an architectural masterpiece that has set the tone for school building, public or private, for a very long time to come.
What remains, and what we are doing today, is welding all these together into an organic whole, by putting in place an effective management system. It makes good sense to us that the best management approach is a community based one. This is not just a global practice, it is self-evident that those imbued with the right sense of ownership are in the best position to drive an organisation or process for it to be successful.
Education is critical to every society because it is an area where any society cannot afford to fail. First, it is through education that every society renews itself by integrating its new members into its past and traditions; for them to be able to properly grasp the present; and improve and secure the future. It is through education that the intellect is cultivated, character is built and an individual becomes adjusted to society. This is why after successfully passing an examination, certificates are issued to the student only after having been found 'worthy in learning and character'. Indeed, in my schooling days, a testimonial introducing the school leaver and affirming his or her character and suitability for engagement in any endeavour is first issued before the certificate, while certificates are declined even to those who passed examinations on the ground of character.
Education is also the primary instrument of development. The knowledge that drives development is introduced to every pupil through systematised learning. While there have been geniuses and outstanding individuals who affected our world positively through creativity and innovation without acquiring formal education, the making of our world as it is today is the product of knowledge acquired though education in the sciences, technology, engineering, arts, entertainment and so on. The technology of building, architecture, automobiles, environmental engineering, medical sciences and administrative sciences are overwhelmingly acquired though education.
Education is also the primary means for leadership training and recruitment. Other things being equal, the business, political and social leaders are usually those that have acquired some form of formal education. They are also the richer members of our society who hold a disproportionate quantum of knowledge, societal wealth and resources.
When you look at the trend in the world, seeing that it is increasingly becoming digitized, knowledge-based and competitive, one cannot but conclude that the future belongs to those who have very good education and knowledge.
This is the future we project for our children and that is why we are straining the resources of government to give them the best education available and possible.
We are bringing in the community because we want our communities to have ownership of our schools since the community is the primary stakeholder in education. It is also self-evident that for the success and any attainment of a person in life, his or her community first takes credit. The first thing that is asked after someone becomes successful or famous is: 'where is she/he from?' By the same token, moral and educational failures of an individual is also shared by his community. This is the ancient wisdom behind banishing an individual whose actions and disposition do not conform to the values of a community.
Therefore, the failure of any school in moral, educational, physical standards is collective failure of the community. Failure of any child is a failure of the community; every school and every child thus need the support of the community to achieve success. Even if you have no child in the school, demonstrate your sense of responsibility to your community by supporting your schools. Superintend all schools' activities, monitor the pupils and report shortcomings to the appropriate authorities.
In composing the board members, all stakeholders in the community – traditional rulers, leaders, iyalojas, artisans forum of parents, educationists, professional etc. – were consulted. Members were picked by the communities through their recognised organs. It is our view therefore that you are all capable of performing satisfactorily the assignment given to you.
However, the committee members should be made to realise that they were nominated based on the fact that they could contribute meaningfully to Community Based Management Committees, Boards and Councils, but if found ineffective, the management has the right to determine their continued membership;
Secondly, members are expected to source for fund for schools' improvement, jointly plan for its utilisation and ensure its judicious use for schools' improvement and development;
Thirdly, with Community Based Management Committees, Boards and Councils, everything will work as expected in our schools, the issue of supervision would be easy because feedback will be obtained from the community;
Fourthly, the committee members are to identify schools' needs and challenges and take appropriate actions towards solving them.
While it is part of the responsibilities of the various committees, boards and councils to raise funds and complement government's efforts in funding the schools, the objectives are not to impose levies or overburden the parents and pupils, but to manage the schools for excellence.
There are clear challenges in attitudes of teachers as seen in the high failure rate and absence of grooming in their pupils; there are challenges also among the pupils, manifest in the gangster-like and unruly behaviour of some of them. The school should be the centre of excellence for knowledge impartation and character building. Without proper management and supervision, we cannot achieve this. With the efforts and financial resources government is committing to education, our school leavers should be able to face the world, well-armed with knowledge and good character. This is where your job is well cut for you. You must instil discipline in all.
You should also note that this appointment is not a political reward. It is not a call to political patronage, primitive accumulation and self-aggrandisement. Rather, it is a solemn call to the building of our society. It is a call to be part of history; it is a call to be remembered in the future when credits are given to those who stood to be counted in the making of an informed society.
Therefore, from now on, the slogan would be: Support your community; own and oversee your schools. We shall evaluate and assess your performance through the physical condition of your schools, the character and performance of your students. These will be recognized annually with State medals and others laurels of distinctions.
I congratulate you for heeding the call and for being part of this historic mission.
I thank you all for your kind attention.
Osun a dara!