AWARD ACCEPTANCE SPEECH: Education As Liberation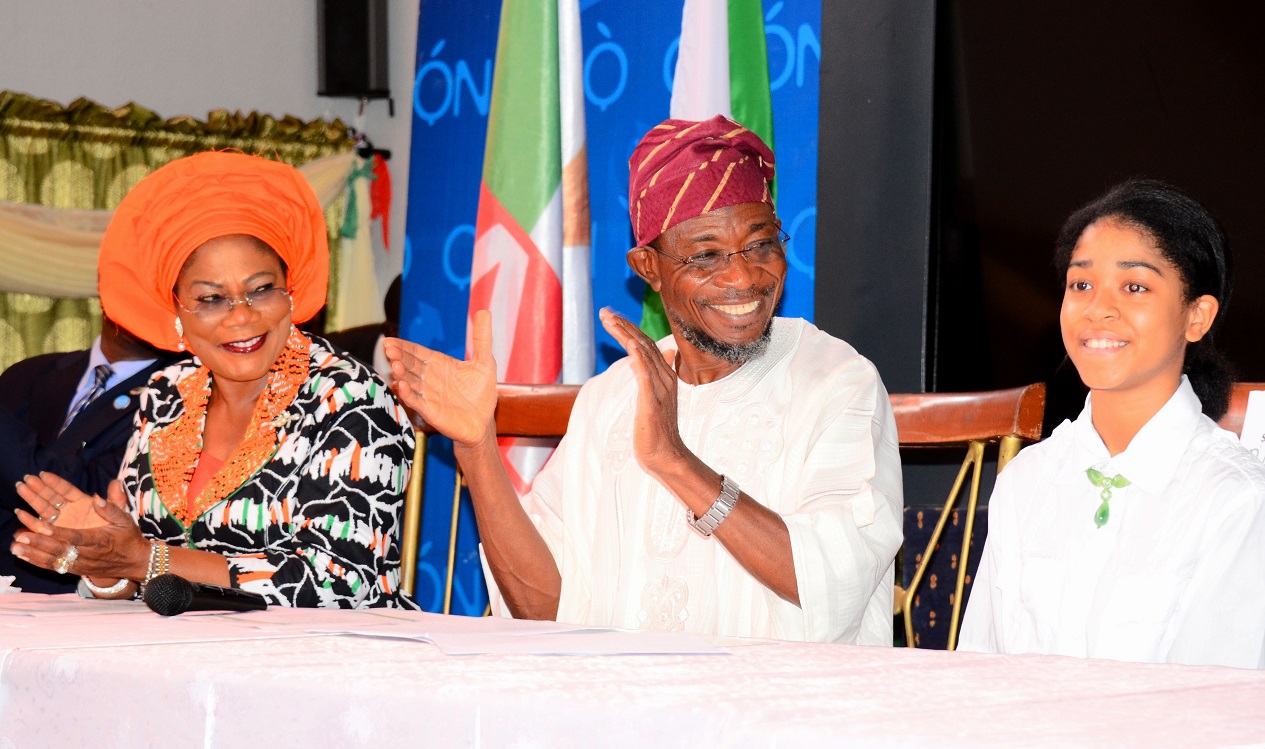 ACCEPTANCE REMARKS BY THE GOVERNOR OF THE STATE OF OSUN, OGBENI RAUF AREGBESOLA AT A CEREMONY TO PRESENT HIM WITH THE 'MOST INNOVATIVE GOVERNOR SUPPORTING EDUCATION IN NIGERIA', HELD AT THE BANQUET HALL OF GOVERNMENT HOUSE, OSOGBO, ON THURSDAY JULY 1, 2014
Protocols,
Education As Liberation
It is with a sense of historic responsibility that I stand before this important gathering today. Of a truth, every human generation and segment thereof occupies a space and a place in history. Consequently, each of them is tasked with a mission and responsibility that it must fulfil.
However, identifying these mission and responsibility is as important as fulfilling them; for identification is the first logical and necessary step that determines the success of the latter. I am thus filled with joy to be in this historic gathering today.
Today's occasion is historic in the significant sense that it is a mark of our success in properly identifying and fulfilling our mission and responsibility in our time and in the space we occupy in history.
Let me here enter a note of genuine gratitude to the 'Dream Up, Speak Up, Stand Up' Project and the brain behind it, Miss Zuriel Oduwole, an 11-year-old America-born girl of Mauritian and Nigerian descent. It is on account of her globally acclaimed pet project for promoting education (especially for the girl-child) that we are gathered here today.
I must therefore sincerely thank the 'Dream Up, Speak Up, Stand Up' Project for identifying me as one of the privileged few, all over the continent of Africa, that are doing 'very cool things' for the improvement of education. This is a reason for which I am being presented today with the award of the 'Most Innovative Governor Supporting Education in Nigeria'.
This occasion is also a historic moment for our country, Nigeria, and for our small but beautiful State of Osun. The award ceremony underscores the fact that in Africa – popular image notwithstanding – serious positive efforts are being made to change the lot of the people for the better.
Happily, as today's awards presentation squarely demonstrates, Nigeria is in the vanguard of these 'very cool' developments, to borrow from Zuriel. It is even more gratifying for us in Osun that our state is helping to put Nigeria in that lead position.
The 'Dream Up, Speak Up, Stand Up' Project came up with four award categories for efforts at improving education in Africa. Two of the awards went to two African countries, Tanzania and Mauritius. The other two came to Nigeria, and they have been won by the State of Osun.
The import of this achievement can be better appreciated against the background of the fact that there are 55 internationally recognised countries in Africa, a continent with a population of approximately 1.1 billion people.
Yet Nigeria won two of four awards due to the continent. Our education reform effort in Osun has once again put the country in positive global reckoning. It is a feat for which we are immensely pleased and proud.
But this is far from being an easy achievement. It is one that is born of serious-minded leadership, single-minded dedication to providing solutions to societal problems, as well as an unflinching commitment to the service of our people. In our commitment to better the lot of our people, we are resolved in paying no obeisance to any obstacle.
As a result, when we came aboard, we quickly defined our mission and responsibilities in government, and we immediately set about fulfilling them. One of these was effecting a complete transformation of our public school system which had sunk into unacceptable state of degeneration.
We constituted an Education Summit that came up with useful recommendations. We then began their implementation with a view to building a robust education system that would be at par with international standards. Our high objective is to produce well-rounded and thoroughly educated individuals that will have the intellectual and moral capacities to positively affect the fortunes of their society.
For this to happen, it was deemed necessary for us to have free education at the primary and secondary levels; to rebuild the decrepit physical infrastructure; and to urgently tackle the problems affecting the teaching staff, among other things.
We identified poverty as a major obstacle to elementary school enrolment and completion. So, we repackaged the existing pilot school feeding programme into the Osun Elementary School Feeding and Health Programme (O'MEALS). The aim is to ensure that every child in school gets a meal every school day that will provide sufficient nutrients required for his/her daily academic exertions.
The introduction of O'MEALS led to a surge in primary school enrolment by 25 per cent within four weeks, thereby adding another 38,000 pupils to the Elementary school population. Today, Osun has the highest primary school enrolment second only to Niger State in the whole of Nigeria.
On physical infrastructure, we are building international standard model schools at all the three grade levels into which we have reorganised our public school system. The Elementary, Middle and High schools will each have 100, 50 and 20 of such buildings respectively.
The school buildings at the first two levels are built to accommodate 900 pupils, while the High school buildings will each have space for 3,000 students. Many of these buildings are already completed and in use, while work is accelerating towards the completion of the remaining ones.
To solve the problem of learning materials and text books, we have introduced the world-renowned 'Tablet of Knowledge', called Opon-Imo. It is our innovative and hugely cost-saving solution to a very difficult problem.
Opon-Imo is a unique application of existing e-tablet technology to our specific problems. This tablet weighs only 1.1kg and yet contains lecture notes, some 53 text books for all the subjects of study in the terminal examinations for secondary school leavers in Nigeria and West Africa.
It also contains past questions and answers dating back to 10 years as well as extra-curriculum subjects such as History of The Yoruba, Sexuality Education, Civic Education, Ifa on ethics and morals, enterprise education, hints and tips on passing SSCE and 'How to live a Healthy and Happy life'. In Opon-Imo there is an average of 16 chapters per subject and 823 chapters in all, with about 900 minutes or 15 hours of audio voiceovers.
These are just some of the many features of the smart e-learning device which is making access to learning easily and freely available to our public school students. It is a concrete statement of the depth of innovation and creativity we have brought to our education reform, and governance generally, in Osun.
The core objective of our education policy is to completely change the face of public education in the state and to also make good and qualitative education something that will be taken for granted by every child in the state.
Permit me to mention here that in the drive towards making education a commonly available right of any child in our state, the achievement of Zuriel will certainly be a massive boost and high inspiration for every school child in Osun, especially the girl child.
At age 11, she is already a globally recognised figure who is making a stand for school-age children in Africa to have the right to education just like any of their peers across the world. I want to assure you that here in Osun, at the highest level of our government, we place a very high priority on giving high quality education to our children.
For us, education goes beyond giving our children a mere meal ticket; we regard education as a powerful force for the liberation of the human person. Hence, as a government, we will continue to 'Dream Up', to 'Speak Up', and to 'Stand Up' for the right of our children to have education.
Once again, I am grateful for the award.
I thank you all for your attentive audience.
Osun a dara!